Where are meetings held?
All meetings are either held at our offices in Silverstone (Northamptonshire) or Farringdon (London), or virtually via secure video conferencing.
Should your personal circumstances necessitate a meeting at your home or workplace please contact us to discuss your requirements.
Do you have parking at your office?
Silverstone – Yes. There is ample free parking at the office.
London – No. The nearest tube station is Farringdon.
What financial product & advice areas do you cover?
We hold permissions for, and provide planning services, covering:
Pensions
Investments
Wealth Management
Retirement Planning
Tax Planning*
Inheritance Tax* & Estate Planning
Human Insurances (Disaster Planning)
Mortgages
Equity Release
Later-Life Advice & Care Fee Planning
Behavioural Coaching
Corporate Advice – Workplace Pensions & Employee Benefits
* Tax treatment is based on individual circumstances and may be subject to change in the future.
The Financial Conduct Authority does not regulate tax planning and workplace pensions.
The Pensions Regulator is the statutory regulator for workplace pensions.
Are you truly Independent?
Yes.
Longhurst Limited is privately owned, meaning we are not influenced by a parent company.
We are also Independent Financial Advisers, meaning we have access to the entire market place of financial and investment solutions.
Are you regulated by the Financial Conduct Authority (FCA)?
Is my money safe?
We do not hold any client money so there is no trading risk associated if you choose to work with Longhurst.
Investing your hard-earned money of course carries a degree of risk. Daily valuation fluctuations are common place, and as the risk warnings state: You may get back less than you invested.
We complete a comprehensive risk profiling questionnaire with each client we work with, which alongside other factors helps steer the advice we give you.
Any money you invest is held in a nominee account with one of the UK's leading investment platforms. This protects your assets in the unlikely event of the investment platform failing.
Your investments are also covered by the Financial Services Compensation Scheme (www.fscs.org.uk).
What if I'm not happy with the advice I'm given?
Our 'Initial Financial Planning Review' service comes with a guarantee that if you're genuinely not 100% happy with our work we'll refund you 100% of the fee you've paid.
For existing clients, if you're ever unhappy with our advice, or any other element of the relationship, please let us know immediately so that we can resolve the situation as quickly and as pragmatically as possible.
If you're still not happy, you can then contact the Financial Ombudsman Service (www.financial-ombudsman.org.uk).
What should I do if I get a withheld and suspicious call from Longhurst?
You should call us directly on 01327 223243.
We will never cold call you or send an email without having had previous permission.
The Longhurst team will always help you with any checks.
Why is working with a Chartered Financial Planner important?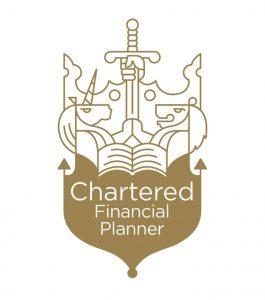 Every client of Longhurst gains access to a Chartered Financial Planner and a Fellow of the Personal Financial Society.
Chartered Financial Planner status is regulated by the Chartered Insurance Institute (CII) and is granted by the Privy Council. It is our profession's gold standard for financial planners. It is a commitment to an overall standard of customer excellence and professionalism.
This means your financial planner will have over 20 exams and completed well in excess of 2,000 academic study hours.
By engaging with Longhurst you will be working alongside some of the highest qualified and ethically proven financial planners in the country.
Why is working with a Gold Standard Pension Transfer Specialist important?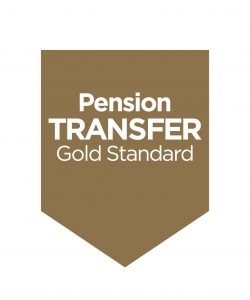 We have signed up to the Personal Finance Society's 'Pension Transfer Gold Standard'.
The PFS is the professional body for the financial planning profession in the UK. Their remit is to lead the financial planning community towards higher levels of professionalism exhibited through technical knowledge, client service and ethical practice.
In practical terms this is an adviser code of conduct that helps clients understand when advice is appropriate and ensures that if it is it supports their overall wellbeing in keeping with their stated objectives.  It also ensures that clients understand and accept all the charges and costs associated with transferring their benefits and avoids conflicts of interest.
The Gold Standard embodies the culture of advisers who are passionate about their profession and dedicated to achieving the best possible outcomes for their clients.
Clients who are considering transferring their pension benefits will be provided with a copy of the 'Pension Transfer Gold Standard Consumer Guide' at the point when they confirm that this is one of their objectives.
What is a Fiduciary Financial Planner?
We only give advice, and produce a bespoke financial plan, if we have followed a comprehensive research process.
We will never steer you into an investment or product which will benefit us more than it will you.
We will ensure your life savings are invested with the same level of importance that we invest our own family's life savings; treating your capital as a hard-earned asset requiring careful attention.
What is Voyant?
Voyant helps advisers and clients plan and adapt to real life events, before, during and after they happen. It's interactive, easy to use, and collaborative, meaning advisers and clients can work together to make smarter, more tangible financial decisions.
From retirement planning to buying a new home, Voyant's interactive planning tools help users visualise their financial future, test different scenarios and instantly understand the impact of key decisions on life events along the way.
With Voyant, you get all the information you need to answer every "what-if" scenario.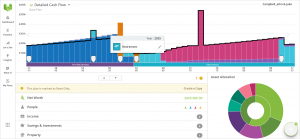 What is Timeline?
Timeline provides us with the ability to stress test a client's pension income pot against actual, severe market falls (like the Financial Crisis or even the 1973-74 Crash).
It transforms extensive, empirical asset class and longevity data into a visually dynamic, easy-to-understand story for clients. Your story. It:
Demonstrates the impact of asset allocation, rebalancing, glidepaths, fees, and taxes
Uses interactive fire-drills to prepare you for market declines
Illustrates longevity risk and show you the probability of outliving their portfolio
Crafts a personalised withdrawal policy statement for you within minutes
Timeline runs 1,000 scenarios for a 30-year retirement plan. Each scenario has 30 different annual returns (in fact, they use monthly data, so each scenario has 30 * 12 monthly growth and inflation rates).
The benefit of this is that they can test the impact of various real-world scenarios, such as the 72/73 bear market when UK equity declined by 67% and took nearly six years to recover fully. Or, the Great Depression when US equity declined c87% and lasted over three years.
Using this extensive data allows Timeline to stress-test the impact of these scenarios of every single year of our client's retirement plan