Slow and steady wins the race
One of the main things we consider when investing our clients hard-earned capital is the amount of volatility they can emotionally handle.
Over the long term, historic data shows us that periods of high return tend to offset periods of low return. With the wonderful passage of time, these offsetting periods result in the dispersion of returns gravitating or converging toward the average.
What does this mean you may ask?
Well, while returns may fluctuate widely from year to year, holding the asset for longer periods of time results in an apparent decrease in investment volatility.
The graph below finely illustrates the range of compound annual returns for stocks/equities (or the great companies of the world); bonds (debt); and cash over one, five, and 20-year holding periods.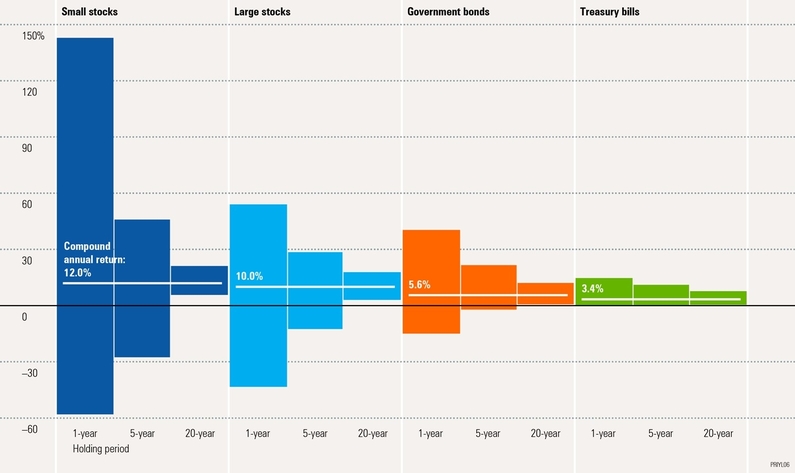 On an annual basis, since 1926, the returns of large-company equities have ranged from a high of 54% to a low of –43%.
The average returns range from 29% to –12% over five-year periods, and between 18% and 3% over 20-year periods. During the worst 20-year holding period for the equities, since 1926, equities still posted a positive 20-year compound annual return.
We'll repeat that. Even during the worst recorded 20-year holding period for equities, since 1926, they still posted a positive compound return ………
Light bulb moment.
At Longhurst, we build investment portfolios designed to serve your financial plan. These portfolios will provide you with the greatest opportunity to achieve and maintain financial independence; retain comfort and dignity during retirement; and with hope, leave a meaningful legacy behind for your loved ones.
But to ensure you have the best possible chance of success you need to make sure you take a tortoise like approach to investing.
You need to play the long game.
Be less hare.
Because evidence shows us that slow and steady wins the race.
About the data
Small stocks are represented by the Ibbotson® Small Company Stock Index. Large stocks are represented by the Ibbotson® Large Company Stock Index. Government bonds are represented by the 20-year U.S. government bond, and Treasury bills by the 30-day U.S. Treasury bill. An investment cannot be made directly in an index. The data assumes reinvestment of all income and does not account for taxes or transaction costs.
THE VALUE OF INVESTMENTS AND THE INCOME FROM THEM MAY GO DOWN. YOU MAY NOT GET BACK THE ORIGINAL AMOUNT INVESTED.