Personal note from Chris Broome
I was once told by an employer that he hated personal messages and stories about family being used for professional reasons.
On reflection I disagreed.
I, and the team at Longhurst, are in the human business. We're not flogging insurance products. We're certainly not flogging financial products.
As a client of Longhurst, our focus is on ensuring you live the best possible life for you and your household.
At times you will face challenging life transitions.
During these moments we will be stood by your side.
Always.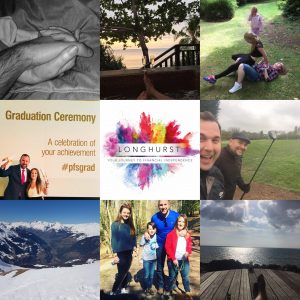 5 Years
A lot can happen in 5 years.
For some it may seem an age.
For others just a short space of time.
5 years ago to this day we lost our mother. 
Margaret Broome, nee Longhurst, tragically lost her life to cancer.
It was a very challenging time for my family and I. The years building up to it. And the event.
A life transition of epic proposition was to the then follow for me.
A new life partner. With life planning of our own to now follow.
Time with our family: brothers, nieces and nephew.
The great outdoors. Gaming. Travelling. And reading. A lot of reading.
My eyes were finally opened.
Authenticity found. Spiritual core of my Why and my How realised.
Changes to my circle of influence.
Employment for the first time in nearly a decade of being my own boss.
10 more exams sat. 22 in total now.
Chartered Financial Planner accreditation secured.
Fellowship of the Chartered Insurance Institute followed.
New professional connections made. In tune with my ideology and concept of how collaborative relationships should be.
New business idea formalised. Time to get to work building it.
A new house purchased in the countryside. Life plan on track.
Business launch.
Podcast launch.
Dog adopted.
Clients knocking on our door.  
Professional partners knocking on our door.
Work/life balance activated.
Fishing. Shooting. Golf (of sorts).
Travels. Have I mentioned travelling.
5 years can be a long time.
But if you use it wisely it may also be the making and shaping of a better you.
Longhurst is alive.
And it will be Maggie's legacy.